Frábæru fimmta kvöldi Jazzhátíðar Reykjavíkur 2013 er lokið.
ADHD var í Fríkirkjunni, sem reyndist rétt mátulegt tónleikahús fyrir þessa frábæru sveit. Edda Borg Band á Rósenberg og Rósa Guðrún Sveinsdóttir í seinna setti Fríkirkjunnar. Jóel Pálsson og Stórskotaliðið í Gym&Tonik á Kex.Toppmúsík á öllum vígstöðvum og frábær mæting allsstaðar.
Dagur 6:
Þriðjudagur/Tuesday August 20
19.00 JazzCorner – Kliður
20.00 Fríkirkjan – Tómas R Einarsson Latin Sextet
21.00 Café Rósenberg – Icewegian Musical Treaty
21.30 Fríkirkjan – Skarkali
21.30 Kex Weekly Jazz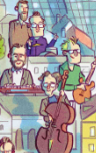 Great 5th day of the 2013 Reykjavik Jazz Festival. ADHD filled Frikirkjan with their irresistible way of manipulating the soundwaves. Rósa Guðrún Sveinsdóttir with her sweet haunting originals with strings and things. Edda Borg and her fine smooth jazz-fusion. Jóel Pálsson's Heavy Artillery of countless orginals. Fantastic night of good music and very good attendance everywhere.
Are you ready for Day 6?
Þriðjudagur/Tuesday August 20
19.00 JazzCorner – Kliður
20.00 Fríkirkjan – Tómas R Einarsson Latin Sextet
21.00 Café Rósenberg – Icewegian Musical Treaty
21.30 Fríkirkjan – Skarkali
21.30 Kex Weekly Jazz