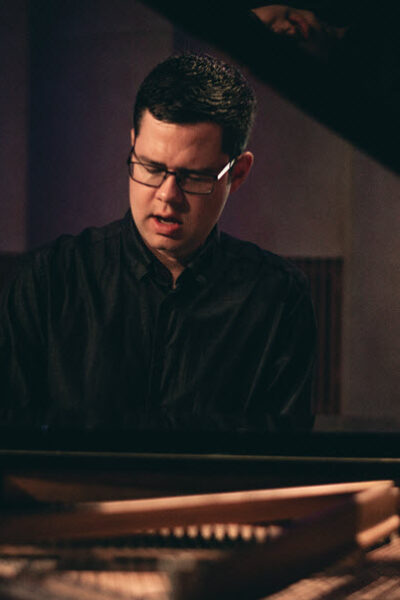 Ingi Bjarni Skúlason is a pianist/composer of considerable distinction and finesse, creatively seeking to shun boundaries in style or genre. Across our forever-united European musical landscape, he builds collaborations that challenge and excite, including projects with friends and colleagues in the Scandinavian countries he has lived in and whose open, artistic culture is closely entwined with that of his Icelandic homeland. This singular musician's focus produces original works which, while informed by jazz tradition, Nordic folksong and electronica, rise up from a wellspring of meticulously-shaped imaginings – ideas inspired by relentlessly searching improvisation, as well as the people he interacts with in daily life, and also the wonders of the natural environment.
Embracing the infinitely explorable world of the classic jazz piano trio, Skúlason's first two major albums – Skarkali (2015) and Fundur (2018) – invited listeners into a realm of spacial freedom and vibrant expression; and latest recording Tenging (2019) expands horizons further with a sparkling quintet (trumpet, guitar, piano, bass and drums) which weaves even greater textures and possibilities into his increasing musical vision.
Although now clearly an individually-minded musician, it was initially the discovery of Keith Jarrett and Herbie Hancock that was the epiphany leading Ingi Bjarni Skúlason on his resolute path, attaining a Bachelor's degree in Jazz Performance at Den Haag, The Netherlands. From there, he went on to achieve a Masters degree in composition from the University of Gothenburg, with exchange semesters in Copenhagen and Oslo. Tutors and mentors have included Misha Alperin, Anders Jormin, Helge Lien, Aaron Parks, Eyolf Dale, Eric Gieben, Agnar Már Magnússon and Helge Sunde; and as a bandleader, Skúlason has performed at jazz festivals in Bremen (jazzahead), Hamburg (Elbjazz), Lillehammer, Vilnius, Copenhagen, Reykjavík and the Faroe Islands.
In Spring 2020 he received five nominations for the Icelandic Music Awards for his quintet recording Tenging, and was awarded as the most promising Icelandic jazz artist.