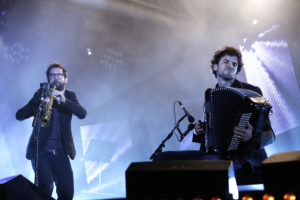 Harmonikuleikarinn Vincent Peirani og saxofón/klarínettuleikarinn Emile Parisien hafa sankað að sér helstu jazzverðlaunum Frakka á undanförnum árum og eru það allra heitasta á Parísarsenunni. Þeir hafa spilað á hverri hátíðinni á fætur annari í Evrópu og voru tilnefndir til þýsku ECHO verðlaunanna 2015 sem besta alþjóðlega grúppan enda fór hljómdiskurinn þeirra Belle Époque (ACT Records) sigurför um Evrópu. Parisien og Peirani líta til vöggu jazzins jafnt og tónlistarhefðar Frakka í frjálslegri nálgun sinni sem grípur áheyrandann með góðri blöndu af húmor, ákafa og gleði.
Peirani & Parisien leika á Jazzhátíð fimmtudaginn 10. ágúst og hefjast tónleikarnir kl 20:00.
Nældu þér í miða á dag 2 með því að smella hér
Vincent Peirani (accordion) and Emile Parisien (reeds) have collected the main French jazz awards over several years and are the hottest act on the Parisian scene. They have performed at all the major European Jazz Festivals and were recognized by the German ECHO Jazz in 2015 as the best international group. Their 2014 release Belle Époque (ACT Records) turned out to be a jazz sensation in Europe. Peirani and Parisien bow to their native music tradition as well as the cradle of jazz in their carefree approach which grabs the listener with a dash of humour, intensity and joy.
Peirani & Parisien appear at Reykjavik Jazz Festival Thursday August 10th at 8pm
https://youtu.be/qACgmJmnedw