ASA Trio – Silfurberg 22:00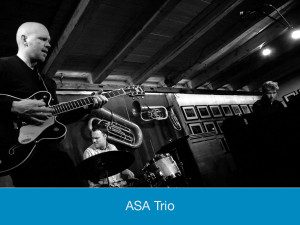 Allt frá árinu 2005 hefur ASA Tríó komið víðsvegar fram og hafa skapað sér orðstír fyrir einstakar túlkanir á tónlist eftir fólk á borð við Fiona Apple, Ray Charles, John Coltrane og Thelonious Monk. Hljóðfæraskipan orgeltríósins gefur efniskrá fyrstu plötunnar sem inniheldur mörg af þekktustu lögum Monk áhugaverðan og ferskan blæ. Á nýjustu plötu tríósins sem nefnist Craning leika þeir eingöngu sínar eigin tónsmíðar. Lagasamsetningin er einstaklega fjölbreytt með verkum sem spanna allt frá ljúfri kántríballöðu, Devo-legu pönklagi til nýmóðins jazz tónæfinga í oddatölu taktegundum og allt rúmast þetta í sama hljóðheiminum.
Since 2005 ASA Trio has been preforming in Iceland abroad and have become known for their unique interpretations of music by the likes of Fiona Apple, Ray Charles, John Coltrane and Theolonious Monk. The instrumentation of the organ trio lends itself to fresh perspectives on well-known material, but on their new album Craning they play exclusively their own compositions. The set is decidedly diverse with pieces ranging from a sweet country ballad to a Devo-ish punk tune to modern jazz workouts in odd meters, all the while coexisting under the same sonic umbrella.
Agnar Már Magnússon (Organ)
Scott McLemore (drums)
Andrés Þór Gunnlaugsson (guitar)