Gaukur Hraundal and co – a family concert – Budvar stage – 15:00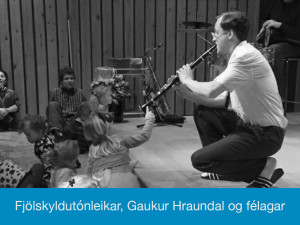 Haukur Gröndal sýnir hér hliðarsjálf sitt sem hann kallar Gauk Hraundal. Gaukur er elskar að leikur af fingrum fram og hann elskar leikskólalögin og hér leiðir hann gesti í ævintýraferð um töfraveröld tónlistarinnar. Tónleikarnir eru sniðnir að yngri kynslóðinni og því tilvalið fyrir foreldra og ömmur og afa að skella sér með á þessa stuttu en bráðskemmtilegu tónleika (30 mín og ókeypis aðgangur). Og ef maður á ekki börn sjálfur getur maður alltaf fengið annarra manna börn að láni!
Saxophone player Haukur Grondal shows us his alter-ego, "Gaukur Hraundal". Gaukur likes to improvise and he likes the kinder garten tunes! With those two elements at hand, he'll take us on a jorney. This concert is aimed at young listeners so mom, dad, grandma and grandpa grab your coat and get your hat and take the little ones to Harpa now! The show takes apr. 30min and admission is free. If you don't have a child of your own, then borrow one!
Haukur Gröndal (woodwind)
Pétur Grétarsson (perc)
Gunnar Hilmarsson (guitar)
Leifur Gunnarsson (electric bass, double bass)