Sons of Gislason – Silfurberg kl 22:00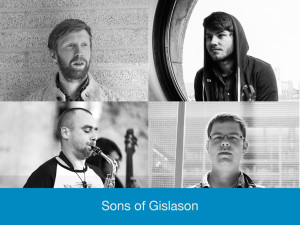 Einn af fulltrúum yngri kynslóðar íslenskra jazzleikara, bassaleikarinn Freysteinn Gíslason, leiðir kvartettinn Sons of Gíslason og leika þeir tónlist eftir Freystein sem er full af eldmóði og leikgleði. Meðlimir kvartettsins stunda nám við Konunglega tónlistarskólann í Den Haag Hollandi og hafa leikið saman undanfarin tvö ár.
Bassist Freysteinn Gíslason represents the younger generation of jazz players in Iceland. Here he leads a quartet performing his originals that are both energetic and playful. The members are all studying at the Royal Conservatoire in the Haag Netherlands and have been playing together for two years.
Freysteinn Gíslason (double bass)
Ingi Bjarni Skúlason (piano)
Manvydas Pratkelis (sax)
Augustas Baronas (drums)