Boom Tic Boom – Norðurljós kl 21:00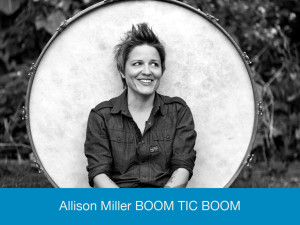 Bandaríski trommuleikarinn Allison Miller kemur fram á hátíðinni í ár ásamt hljómsveit sinni BOOM TIC BOOM skipuð Allison Miller (trommur), Carmen Staaf (píanó), Jenny Scheinman (fiðla), Todd Sickafoose (kontrabassi). Allison hefur verið valin "rising star drummer" hinu virta Downbeat tímariti og var á meðal topp 20 á lista yfir jazztrommuleikara í sama tímariti. Tónleikar hennar fara fram 14.ágúst kl 21:00 í Norðurljósasal Hörpu. Einnig verður Jenny með masterclass á laugardegi í Kaldalóni kl 11 og Allison kl 12. http://allisonmiller.com/
NYC-based drummer Allison Miller gathers inspiration from a wide array of genres. Coming from the Jazz tradition, she engages her deep roots in improvisation as a vehicle to explore all music. Described by critics as a charismatic
and rhythmically propulsive drummer with melodic sensibility, Allison has been named "Rising Star Drummer" and "Top 20 Jazz Drummers" in Downbeat Magazine's acclaimed Critics Poll. Her band, Boom Tic Boom, is a 2014 recipient of Chamber Music America's "Presenter Consortium for Jazz Grant" and is proudly sponsored by Mid-Atlantic Arts Foundation.
This concert is made possible by generous support from the US Embassy in Iceland.