Bræðralag / Brotherhood – Norðurljós kl 21:00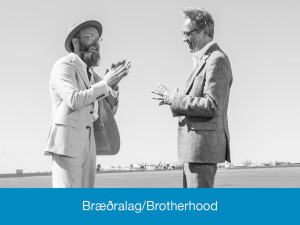 Gítarleikarinn Ómar Guðjónsson og kontrabassaleikarinn Tómas R. Einarsson hafa spilað saman í áratug, ýmist tveir einir eða í fjölmennari hljómsveitum. Nú hafa þeir gert langþráðan draum að veruleika: að taka upp plötu þar sem þeir semja hvor fyrir annan. Þar er músíkölsk samræða æðsta markmiðið, hvort sem um er að ræða sveiflu, latíntónlist eða ballöður.
Guitarist Ómar Guðjónsson and bassist Tómas R. Einarsson have been playing together for a decade. They have performed together, as a duo or in more numerous settings, in ten countries. Now an old dream has become a reality: a record where they compose for each other. The musical conversation is the most important goal, whatever the groove – swing, latin or slow ballads.