Jazz parade – Luckyrecords 17:00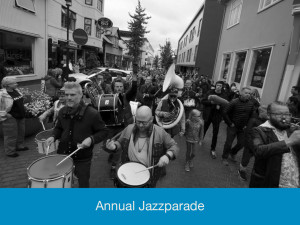 Það er orðinn fastur liður í starfi jazzhátíðar að þramma Laugarveginn endilangann og má segja að skrúðgangan sé orðin jafn mikilvæg fyrir menningarlíf borgarinnar og koma vorfuglanan fyrir geðheilsu landans.
Göngustjóri í ár er engin annar en Samúel Jón Samúelsson, básúnuleikari og hljómsveitarstjóri með meiru.
Hljóðfæraleikarar jazzgöngunnar hittast kl 16:30 og hita upp hljóðfærin og renna yfir skalana. Hljóðfæraleikarar jafnt sem hljóðfæraeigendur eru hvattir til að mæta! Lucky records er steinsnar frá Hlemmi. Síðan er marserað af stað kl 17:00.
The annual jazz parade has over the past years become one of the most important events in the Reykjavik culture life. Just like the migrating birds bring springtime, the jazz parade brings the Reykajvik Jazz Festival to Harpa Concert House.
This years parade master is Samúel Jón Samúelsson trombonist and bandleader.
Parade preparation starts at 16:30. Musicians and instrument owners are encourage to bring their axe. We gather at Lucky Records ( by the Hlemmur bus terminal). The parade starts at 17:00.