Monica Zetterlund – a tribute – Norðurljós kl 20:00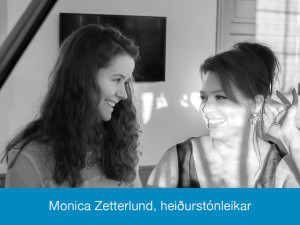 Hljómsveitin 23/8 kom fram með Monica Zetterlund prógram í Norræna Húsinu í janúar sl. við frábærar undirtektir. Miklu meira en húsfyllir var á tónleikunum og komust færri að en vildu. Hér gefst tækifæri fyrir þá sem misstu af þeim frábæru tónleikum.
Monica Zetterlund sló í gegn sem jazzsöngkona skömmu fyrir 1960, þá tæplega tvítug, og söng sig inn í hug og hjörtu jazzunnenda um allan heim. Hún söng meðal annars með heimsfrægum jazzistum á borð við Thad Jones, Bill Evans og Louis Armstrong en hún naut einnig mikillar hylli sem leikkona í heimalandi sínu, Svíþjóð.
Á tónleikunum verða flutt lög sem Monica Zetterlund gerði vinsæl á sínum tónlistarferli en meðal þeirra eru lög samin fyrir Monicu og margar góðkunnar jazzperlur sem ýmist verða fluttar á ensku, sænsku eða íslensku.
The jazz group 23/8 earlier performance honoring Monica Zetterlund, at the Nordic House this January, was a hit and completely sold out! Here's the chance for those who missed out.
Monica Zetterlund was a jazz singer who became popular during the late 1950's in Sweden. She performed with the likes of Thad jones, Bill Evans and Louis Armstrong, but also made a name for herself as an actress in her home country Sweden.
The group will perform songs that Monica Zetterlund made popular during her career, songs that were written for her and known jazz standards performed in English, Swedish and Icelandic.
Stína Ágústsdóttir (voice)
Annu Gréta Sigurðardóttir (piano)
Leo Lindberg (double bass)
TBA (drums)