Nordic Dialogues – Silfurberg kl 20:00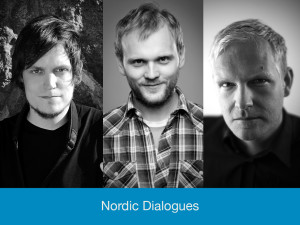 Nordic Dialogues er þverskandinavískt verkefni með finnska saxafónleikaranum Joakim Berghäll sem byggir á geysivinsælli plötu hans, "Dialogues I" (2013). Það eru pianoleikararnir Árni Heiðar Karlsson og Joona Toivanen sem spila með Joakim á skandinavíutúr sem byrjar á Jazzhátíð Reykjavíkur og mun teygja anga sína um Norðurlönding og hugsanlega Eystrasaltsríkin á næsta ári.
Joakim Berghäll kemur frá Helsinki og er einn eftirsóttustasti impróviserandi finnski hljóðfæraleikarinn í dag. Sem tónhöfundur semur hann tónlist sem er undir sterkum áhrifum af finnskri þjóðlagahefð um leið og hún hefur sterkan hljómrænan grunn og fjölbreyttar og grípandi laglínur. Árni Heiðar Karlsson hefur komið víða við í íslensku og evrópsku tónlistarlífi síðustu tvo áratugi bæði sem píanóleikari og tónhöfundur tónlistar frá jazz og klassík, í popp, rokk og house. Síðasta plata Árna Heiðars, Hold, var valin besta jazzplata ársins af bloggtímaritinu The Jazz Wrap í New York.
Joona Toivanen er hæfileikaríkur finnskur píanisti búsettur í Gautaborg. Hann vinnur bæði sem einleikspíanisti og með tríói sínu, Joona Toivanen Trio (Blue Note/CAM Jazz), en auk þess er hann meðlimur í skandinavíska kvartettinum Jazz & Fly Fishing.
Joakim Berghäll Nordic Dialogues is a Pan-Scandinavian collaboration between Finnish saxophonist Joakim Berghäll and pianists Árni Karlsson and Joona Toivanen, based on Berghäll's widely praised debut album "Dialogues I" (2013).
Joakim Berghäll, currently one of the internationally most wanted Finnish improvisers, is a Helsinki-based saxophone player / composer born in 1980. "He is a master at all the reeds." (Jazz Weekly). As a composer he creates music that is strongly influenced by Finnish folk tradition and at the same time harmonically rich, melodically diverse and emotionally compelling.
Árni Karlsson has been an active member of the Icelandic jazz scene for two decades as a pianist and composer in various musical styles, from jazz and classical to pop, rock and house. His last album, Hold, was selected Album of the Year 2014 by New York jazzsite The Jazz Wrap.
"beautiful music, full of emotion, expressive depth, colorful harmonies and beautiful Nordic melodies." SKJazz
Joona Toivanen is a talented Finnish pianist based in Gothenburg, Sweden. His current musical projects include solo work, and the Nordic quartet Jazz & Fly Fishing.
Árni Heiðar Karlsson (piano, IS),
Joakim Berghall sax(FI),
Joona Toivanen (piano, FI)