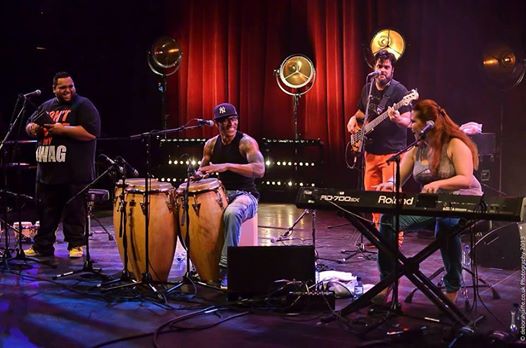 Pablo "Pedrito" Martinez er fæddur í Havana á Kúbu 1973 og hefur starfað óslitið síðan hann var 11 ára gamall sem söngvari og slagverksmaður með mörgum helstu tónlistarmönnum Kúbu. Hann fluttist til Bandaríkjanna árið 2000 og stimplaði sig inn í tónlistarsenu New York með því að fá fyrstu verðlaun í samkeppni Thelonious Monk stofnunarinnar fyrir afró/latin trommara.
Tónlist hans byggir á afrókúbanskri rúmbu hefð auk bata ryþma og söngva Jórúba ættbálka mið Afríku og Santeria hefðar s Ameríku. Gagnrýnandi New York Times kallaði tónlist hans "flókna blöndu fönks frá Afríku og nýja heiminum".
Meðlimir hljómsveitar hans eru rafbassaleikarinn Jhair Sala frá Lima í Perú, slagverksmaðurinn Alvaro Benavides frá Caracas í Venezúela og píanistinn og söngkonan Ariacne Trujillo frá Havana á Kúbu.
Þessi magnaða hljómsveit kemur fram á opnunartónleikum Jazzhátíðar Reykjavíkur, fimmtudaginn 14. ágúst 2014.
Pablo "Pedrito" Martinez was born in Havana, Cuba in 1973 and started performing at age 11 with some of Cuba's finest musicians. He moved to New York where he made his first impact by winning the Theloniuos Monk Institute competition for afro/latin hand drummers.
His rumba infused music is firmly based on the Yoruba and Santeria chants and was reported by New York Times's Ben Ratliff as a  "complex, blenderized Africa-to-the-New-World funk."
Sharing the stage with Pedrito in Reykjavik are electric bassist Jhair Sala from Lima, Peru, percussionist Alvara Benavides from Caracas, Venezuela and vocalist/pianist Ariacna Trujillo from Havana, Cuba. 
The Pedrito Martinez Group will be the opening act at this years Reykjavik Jazz Festival, Thursday August 14th.