Jazzhátíð Reykjavíkur hefur fengið afnot af hinu vistlega safnaðarheimili Fríkirkjunnar fyrir klúbb hátíðarinnar. Þar er td tilvalið að safnast saman fyrir tónleika í Fríkirkjunni og/eða Hannesarholti, og á milli viðburða.
Öll kvöld verður þar eitthvað um að vera, annaðahvort lifandi tónlist eða vínylplötuveisla DJ Eclectic, en sá sérstaki plötusnúður er samheiti þeirra aðstandenda Jazzhátíðar sem hafa kjark og þor til að stíga fram með sínar uppáhaldsplötur.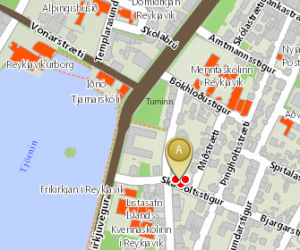 The Reykjavik Jazz Festival JazzCorner will be open during the festival, featuring live music as well as vinyl selections by Dj Eclectic, who is a cooperative alter ego of those affiliated with the festival who have the guts to step out with their favorite albums. 
The official Beer of the Reykjavik Jazz Festival

Hátíðarbjór Jazzhátíðar Reykjavíkur 
Dagskrá JazzHornsins / JazzCorner Program
August 15th – 19.00 – Reykjavik Jazz Festival Opening Ceremony. Speeches/Live Music/DJ Eclectic.
August 16th – 19.00 – Úsland Improv Session. DJ Eclectic. – 21.30 – Resamba
August 17th – Closed – Jazz Festival at Harpa
August 18th – 17.00 – Jazz Barbeque. Óskar Guðjónsson sizzles. Vernharður Linnet talks about the beginning of jazz in Iceland (in Icelandic).
August 19th – 19.00 – DJ Eclectic – A Dj from the ranks of the festival artists plays rare vinyl from own collection.
August 20th – 19.00 – Kliður (Murmur) up and coming artists. DJ Eclectic
August 21st – 19.00 – Gaukshreiðrið ( Cuckoo's Nest) up and coming artists. DJ Eclectic
August 22nd – 19.00 – Annual Jazz Quiz. 23.00 Festival Wrap Party.