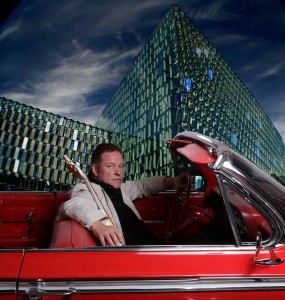 Friðrik Karlsson hefur lögum verið kenndur við hljómsveitina Mezzoforte en kemur hér fram með eigin hljómsveit og flytur frumsamið efni af fyrrum sólóplötum sínum ásamt nýju efni og nokkrum þekktum smoothjazz standördum .
Friðrik hefur starfað í Bretlandi undanfarin 16 ár sem sessiongítarleikari en hefur jafnfram því leikið með ýmsum Fusion og Smootjass listamönnum: Shakatak,Don Grusin,Paul Brown og fl. og gefið út nokkrar sólóplötur sem hafa fengið góða spilum á UK Jazz FM radio.
Fridrik Karlsson has for decades been associated with the international fusion band Mezzoforte but here he presents his own collection of music along with stuff from his previous solo endeavors plus some smooth jazz standards.
Fridrik has lived in the UK for last 16 years and enjoyed success as a fist call session guitarist. He has performed with a variety of fusion/smooth jazz artists including: Shakatk, Don Grusin, Paul Brown etc. His music is frequently heard on UK Jazz FM radio.
Harpa – Silfurberg – Saturday August 18th – 21.30