Alþjóðlegur dagur jazzins verður haldinn hátíðlegur um allan heim þriðjudaginn 30. apríl nk. Það er UNESCO sem blæs til alþjóðlegs dags jazzins öðru sinni, en í fyrra þótti takast sérstaklega vel til þegar þessu merka fyrirbæri var hleypt af stokkunum.
2013 markar upphaf áratugar undir yfirskriftinni: "Viðurkenning, réttlæti og framför fyrir fólka af afrískum uppruna". Þessi yfirskrift bregður enn einum ljómanum á alþjóðlega jazzdaginn sem Sameinuðu Þjóðirnar munu vntanlega fylkja sér á bakvið. Upprunalandi jazzins, Afríku, verður þess vegna veittur tvöfaldur heiður þetta árið.
International Jazz Day in Iceland 
April 30th 2013

12.00 Jómfrúin Restaurant
Swing Session
Performers:
Hakur Gróndal, Gunnar Hilmarsson,
Jóhann Guðmundsson, Gunnar Hrafnsson

17.00 Harpa
"What is Jazz?"                       In Icelandic

Opening. Unesco committee in Iceland                   Páll Skúlason
The Pendulum Swings-jazz and technology       Egill B Hreinsson
Jazz and the Radio                                 Lana Kolbrún Eddudóttir
Bravado and confidence in improv preachings   Pétur Grétarsson
Jazz Education – Paradox or necessity              Sigurður Flosason
Barbaric screaming                                         Tómas R Einarsson
When Jazz came to Iceland                              Vernharður Linnet

"Cuckoo's Nest"   student band from the FIH Music School

20.30 Café Rósenberg
Reykjavik Jazz Festival celebrates International Jazz Day.

Performers:
Hilmar Jensson, Haukur Gröndal,
Hans Andersson, Matthías Hemstock,
Kjartan Valdemarsson, Pétur Grétarsson,
Óskar Guðjónsson, Valdimar Kolbeinn Sigurjónsson

20.30 Kex Hostel
Flosason/Lauritsen Quartet
"Nightfall" release

Performers:
Sigurður Flosason, Kjeld Lauritsen,
Andrés Thor Gunnlaugsson, Erik Quick

Ókeypis inn á alla viðburði alþjóða jazzdagsins
Free entrance to all events on International Jazz Day
Dagurinn verður haldinn hátíðlegur með tónleikahaldi auk þess sem málsstofan HVAÐ ER JAZZ? fer fram í Kaldlónssal Hörpu og hefst kl 17.
Þar verð flutt nokkur erindi sem tengjast þessu eðla tónlistarformi.
Nánari dagskrá dagsins verður birtu á heimasíðu Jazzhátíðar og send út með fréttabréfi til þeirra sem skráðir eru á póstlista hennar þegar nær dregur.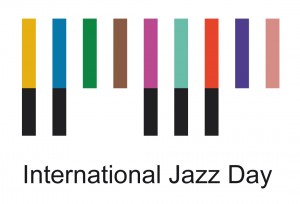 The second International Jazz Day will take place on Tuesday April 30th 2013, presented worldwide by Unesco.
The year 2013 marks the beginning of the International Decade for People of African Descent, consecrated to the theme, "Recognition, justice and development for people of African heritage." This constitutes yet another highlight of the event that the United Nations will surely support. Africa, whence jazz draws its origins, will thus be doubly honoured this year.
Besides concerts to commemorate the International Jazz Day the program in Iceland will include a series of talks under the heading "What is Jazz?". This will take place at Harpa at 17.00 
The complete day's program will be posted here on the Reykjavik Jazz Festival site and sent via newsletter to those that have signed up.