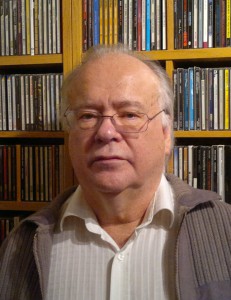 Í tilefni af því að Vernharður Linnet fagnar sjötugsafmæli sínu í lok ágúst, verður þakkargjörð Jazzhátíðar Reykjavíkur helguð honum þetta árið.
Í samstarfi við afdjöflunarmiðstöð Kirkju Óháða söfnuðarins hefur verið haldin uþb annað hvert ár þakkargjörð til heiðurs þeim sem hafa lagt sitt af mörkum til jazztónlistar á Íslandi umfram það sem eðlilegt getur talist. Meðal þeirra sem sitja hafa þurft við þessi tækifæri undir hömlulausu lofi um sjálfa sig undanfarin ár eru Jón Múli Árnason, Björn R Einarsson og Árni Ísleifsson. 
Nú er komið að Vernharði Linnet, sem hefur helgað jazzmúsíkinni líf sitt, svo ekki sé sterkar að orði kveðið, lengi vel sem aðalsprauta Jazzvakningar. Hann sat um árabil í stjórn Jazzhátíðar Reykjavíkur og var framkvæmdastjóri hennar 1992 -1996.  Verharður hefur um áratuga skeið gert útvarpsþætti um tónlistina og auk þess sinnt því vanþakkláta starfi að skrifa gagnrýni um viðburði, plötur og annað sem opinberlega er borið á borð fyrir þjóðina undir merkjum jazzins.
Sunnudaginn 17. ágúst kl 15 koma saman nokkrir vinir Vernharðs og lesa yfir hausmótunum á honum lofrullur af ýmsu tagi. Þar á meðal eru aðstandendur Jazzhátíðar og Jazzvakningar auk tónlistarmanna sem hafa þurft að þola skrif hans um list sína, sumir í áratugi.
We celebrate the seventieth birthday of Mr Vernhardur Linnet, Iceland's Jazz Benefactor for decades.
In cooperation with the de-demonizing center of the Church of Independent Worship (?) the Reykjavik Jazz Festival has bi-annually celebrated an individual who has gone beyond a reasonable call of duty to further the cause of jazz in Iceland. Among those are individuals who's names would mean little if anything for those not brought up in Iceland. See their names in bold above.
Our victim this year is Vernhardur Linnet, who has devoted his life to jazz, first with Jazzvakning (Jazz Awakening Society) and later on the board of The Reykjavik Jazz Festival for many years and its manager 1992-1996. Vernhardur has made countless radio programs on the subject and also been handled with dignity the difficult job of jazz critic.
Sunday August 17th at 3 pm a few of Vernhardur's friends will slam him with various thoughts on his involvement in jazz. Mostly positive we expect. Among those present will be representatives from the Reykjavik Jazz Festival and Jazzvakning. Also musicians who have had to tolerate his writings about their art, some for decades.